I am an autumn-loving kind of person. I'm not talking about a pumpkin spice latte or earthy, seasonal décor kind of love. I'm talking watching the weather like a farmer, specifically the temperature kind of love. There is nothing more annoying to me than a hotter than average day after the fall equinox hits. Um hello, leaves are turning colors folks, it shouldn't be 85 degrees. That nonsense totally cuts into my fall experience, which here in Chicago, can be totally unpredictable. So, while the temperature figures out what it is supposed to be doing, it is at that point in the season I like to get down to business and begin some serious fall cleaning. Spring cleaning is all well and certainly needed, but autumn cleaning is tradition in my home that I hold near and dear. It's like battening down the hatches, getting ready for more days spent inside. And to me, that's not a bad thing. Think hot tea, curling up in a blanket reading, family nights playing games or watching movies cuddled together. Its not that terrible friends, especially when your home is cozy, clean, and well organized thanks to…. you got it, autumn cleaning. Its going to be a thing, trust me. Until then, here's some of the things on cleaning I've picked up along the way.
But, where to begin? As annoying as the warmer weather is this week, we can at least use it to our advantage, lemonade out of lemons. (Actually, use that lemon in your cleaner, it will smell amazing!) With the weather above freezing, now's a good time to work on windows, doors, garages, and whatever exterior parts of the home that needs attention. I don't know about you guys, but garages are the bane of my existence. They are always kind of a mess, and even when they are acceptable, they just don't look acceptable. Ours is the junk drawer of our house and the most time-consuming fall project on our list. Until I began just to let things go, it was getting out of hand. Lucky our recent move took care of most of that and for the rest, a Sunday Home Depot trip to grab some garage organizational items. Yawn. I can't wait.
To the top! Like Mom always said start at the top of a room and work down. And like most things, she's right. Nothing is more irritating than getting halfway through cleaning a room and then noticing the light fixture is, well gross. Then there is that internal dilemma of "Should I clean it and start over, should I just wait until next time, should I just hire a maid and Dowton Abby this place up?" So, when that seasonal clean fest begins inside, that's where I start. Fixtures, vents/fans, shades/curtains, crown molding, cabinet and bookshelf tops & lamps respectively. For this in depth of a cleaning, I mix a pretty small amount of Thieves cleaner, like say a teaspoon to a cup of water and wipe down my shades by dipping a microfiber cloth in just enough to dampen and then wipe. And as you are miserably washing down your vents, changing filters, and washing linens (because that's where I end by the way, washing pillows and linens) you can remind yourself that this will help your family stay healthier as the cold weather is approaching. Brace yourselves, WINTER IS COMING! And I hate to be that jerk but yeah, its like nine more Saturdays until the Holidays. Ain't nobody going to have time for that come December.
Figure out your life. No, but really half the battle to keeping things clean is smacking down that clutter bug. I mean it makes sense, right? Clutter takes up space making it more of a hassle to properly clean. I thought I was doing well until my move this past summer. The amount of dust was horrific, hidden in corners and behind furniture. But you just don't see the uncleanliness when there is so much… stuff. I pitched an astronomical amount of baggage I didn't need. And that's really what it was, things I was holding onto that didn't have a use and didn't bring anybody in our house joy. We did utilize apps like Let It Go, Facebook Market Place, and Offer Up. But a real moment here, I pitched and donated a lot too. If it is going to sit to "sell later" it probably isn't going to move. A quick trip to the dumpster or if its useable, the donation pile, sometimes just gets the ball rolling.
Go natural. When my sister began to go with less harmful cleaning chemicals, I totally resisted for the longest time. I mean seriously, don't mess with my tile scrub, I'm good with my bleach and Windex. How could I even think of cleaning without them?! Well, somehow when getting my monthly Young Living order together I ended up Thieves Cleaner in my basket. I thought, "Oh, how cute, a daily cleaner to wipe my counters in between using the real stuff." Like most of my favorite things in my life, I totally underestimated it at first glance (sorry husband). When bleach began to irritate the eczema on my hands (even with gloves, you can't contain that stuff) and my breathing, I slowly began using Thieves more and more as it had no effect on my skin and sinuses, in fact it smells amazing (especially with a little Citrus Fresh Essential Oil). Now I am at the point I use nothing else, and that's a big deal because my cleaning storage used to look like a Target endcap full of an arsenal of every bottle of chemical filled hell you can think of. Now it's all Thieves, baking soda, vinegar, lemons (essential oil and real deal lemons), and hydrogen peroxide (the harshest thing I use). All those fumes and over the top chemicals are no long allowed near my skin or my family and my home still would make Grandma proud (this lady ironed her pajamas so that's saying something guys).
My biggest struggle with natural cleaning? Definitely a switch for a bleach scrub to use on that obnoxious shower grout. Like can we just have those walk-in, door less stone showers they have in spas be the standard please? I hate… no I loathe cleaning showers. And why clear doors? Every water droplet shows, and you have to see your naked, miserable morning self shower in the mirror because your dang shower door is clear. THE WORST. But in all this misery I did finally find a great grout cleaner thanks to… Bob Vila. No, really. His grout-cleaning formula is basically 1/2 cup of baking soda mixed with 1/4 cup of hydrogen peroxide in a squeeze-top bottle; add 1 teaspoon of liquid dish soap (Thieves dish soap preferably), shake, and apply. You can find the full instructions here.
Multitask like a genius. Audiobooks. That is all. Really though, I have come to appreciate the art of audiobooks and how perfect they are for cleaning. It was a huge game changer for me. Why stand there and listen to yourself scrub and breath heavy? And you can only listen to the Hamilton soundtrack so many times. How amazing is it that while your mopping you can also be listening to Reese Witherspoon's latest book rec or take in a lecture about the inexplicable universe by a renown astrophysicist? If books or lectures aren't your thing, podcasts are great too.
Ain't no shortcut, baby. As a girl I used to marvel at how thorough and deliberate my Mom and Grandma were when they cleaned. To be honest, I used to clean as quick as I could just to be done with it. Let's be real, that can and probably will result a pretty crappy result. In addition, keeping things tidy and clean day to day can be tough and take a huge amount of discipline that takes years to perfect. But both thoroughness and consistency pay off big time. Is there anything better than coming home to a tidy house after a long day or that five seconds that the laundry is completely done? I don't know about you guys, but a loved and well-cleaned home just feels so good and is pretty darn healthy for our family. As I get this clean house thing down, I have some big NO THANK YOU things I don't let happen like no dishes in the sink at bedtime, no clutter under the bed, and always having a made bed. That doesn't mean that I always meet this standard 24/7 but it's a framework to strive for in the day and Mama isn't very happy when she doesn't meet it.
Get the whole family to help. HAHAHAHA, just kidding. This doesn't happen in my house.
All in all, I've learned cleaning is a way of life. It's a priority and a decision we make every day. Sometimes we succeed, a lot of time we fail but like everything, it is a work in progress that takes time to perfect and discipline to implement. In this endeavor, may the odds be ever in your favor and Happy Autumn Cleaning!
"The objective of cleaning is not just to clean, but to feel happiness living within that environment." -Marie Kondo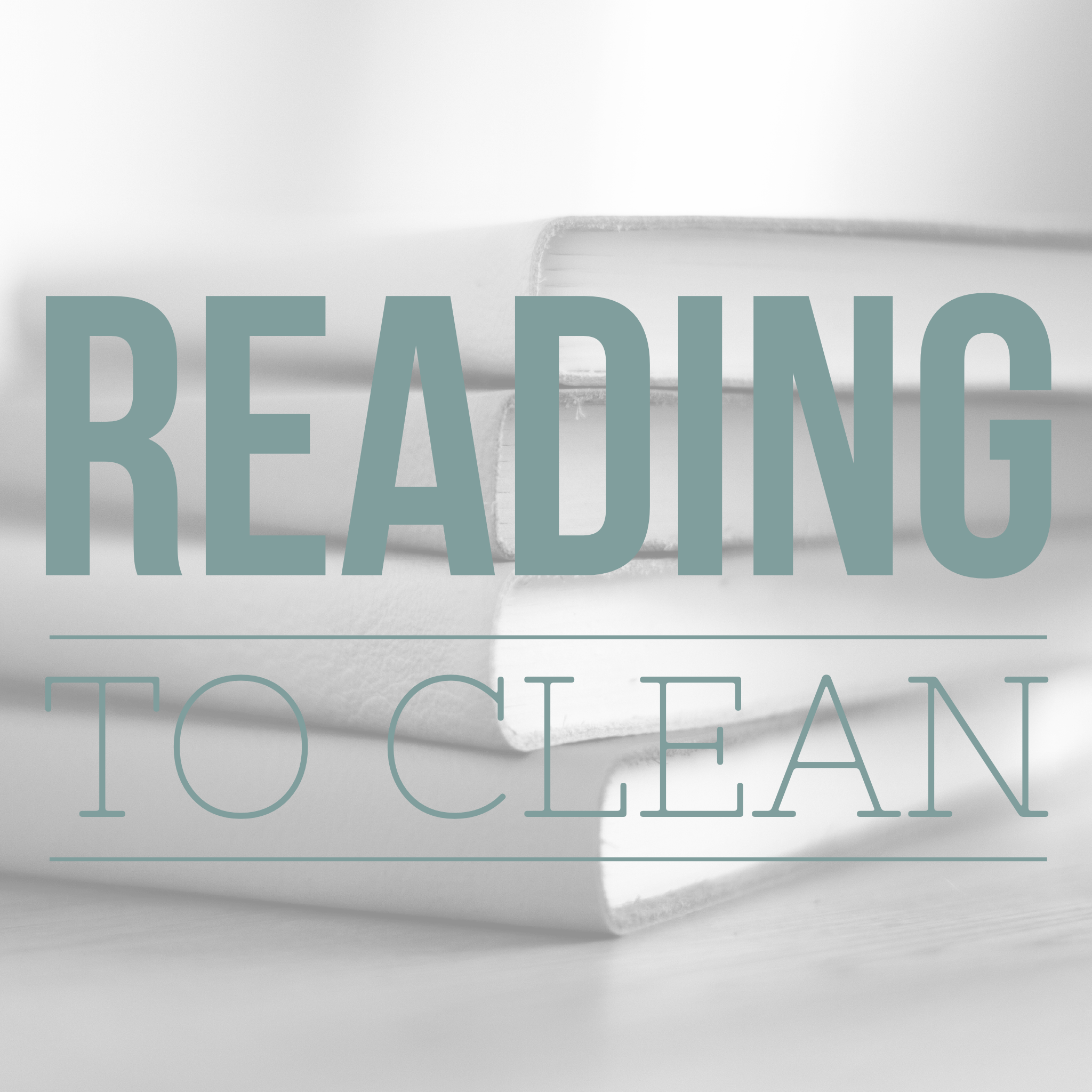 Books:
Spark Joy: An Illustrated Master Class on the Art of Organizing and Tidying Up & The Life-Changing Magic of Tidying Up: The Japanese Art of Decluttering and Organizing -Marie Kondo (I love a whole lot of what she advises. I couldn't get with the whole minimalist thing when it came to books though. Nope.
Audiobooks:
Something in the Water -Catherine Steadman (not all audiobooks are created equal, this one is suspenseful and sublime. You will forget your cleaning all together.)
The Girl With All the Gifts -M.R. Carey (recommended to me and honestly I haven't even been so pleasantly surprised by a book before or since.)
Anything from Great Courses Plus
Podcasts:
Goal Digger -Jenna Kutcher
Boss Up! -Lindsay Teague Moreno
Annotated -Book Riot (If you want to get your nerd on)
The Interview -TED